Hello! My etsy shop is etsy.com/shop/Ajsartscrafts
Follow me here to see what I'm up to. Sometimes it's cute, sometimes it's colorful, sometimes it's just me complaining.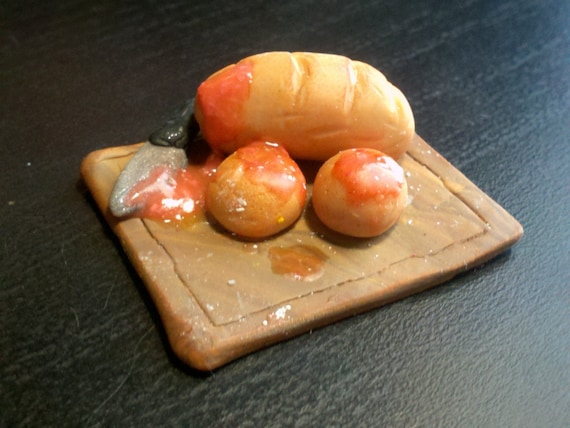 Made some yummy bread and strawberry jam on a cutting board.
Made a Cake!
Been creating!
I've been busy creating custom orders and working diligently on homework. Okay, maybe not so diligently on the homework! But, regardless, I am staying busy! Hope you all are doing well!
xo
-AJ
PICTURES WILL BE POSTED SOON!!!!!
YAY!
I woke up to a totally unexpected Etsy sale today! Thank you so much if you are a follower :) It means the world to me!!!
Now I have to get crafting to get this sale out on time!
Xo-
AJ
Etsy!
Hi guys! I know I haven't posted in a while…sorry! School started again this Spring. But anyways, I still have my etsy site running! I haven't posted any new things in a while, but if you haven't ever visited it, you should! I can make custom designs!!I make kawaii fruit, animals, bow, and anything you want! 
 Go here www.etsy.com/shop/AjsArtsCrafts :) Thank you so much!
-x
AJ
International Sale!
I made my first international sale today :) Still working out the whole shipping situation…Hopefully, that goes smoothly!!
Have nice Sunday, all!
xo
-AJ
I've been busy!
I'm sorry I've been away lately…I am hoping to make more clay fish charms tonight and then I"ll post them up for you all to see!!!
THIS IS SO EXCITING :) :) I made my first REALISTIC animal and I iz very excited!!
The otter was made completley by hand with brown, black, and translucent clay. Textured with a sharp-pointed bead-reemer (or a needle-tool would do the same thing). I am not sure if I want to post it up for sale yet…I think I will soon…
The frog is a gift for someone who LOVES frogs…
The beta-fish was made in memoriam for someone who lost their fishy-friend recently…
xo
-AJ
Rose Earrings :) I made these for some friends' birthdays. Super simple, fairly quick, and look great! Will be posting to Etsy now :)
 I do custom orders!
Facebook
I am deleting my facebook account…Just so you all know.